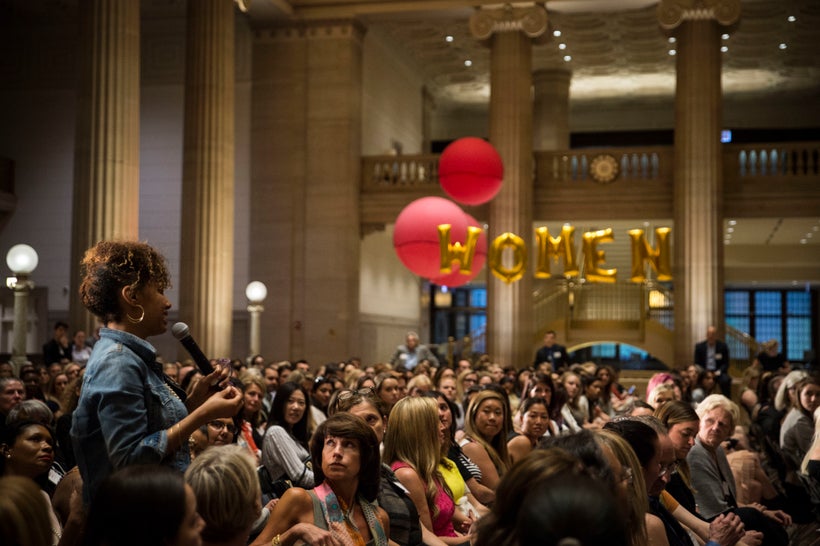 From the Ninth Circuit Court of Appeals' decision allowing employers to pay women less based on past salary history to the recent lawsuit by female law partners for inequitable pay, now more than ever the accomplishment of women in the business needs to be acknowledged. Enter Chicago Innovation, an organization that started to educate, celebrate, and connect innovators in the Chicago region. What began as an awards ceremony turned into a movement. However, the number of women were underrepresented. Therefore, Chicago Innovation decided to start a Women's Mentoring Co-op and partnered with other organizations to increase and spotlight the number of women innovators in Chicago. Wednesday night, Chicago Innovation along with ARA(Attract, Retain, Advance) and Women's Business Development Center (WBDC), presented Celebrating Women in Innovation hosted by Wintrust Bank in its grand hall.
The evening had two panels, one focused on public sector innovators and the other dedicated to private sector innovators. Ana Dutra, CEO of The Executives' Club of Chicago, served as moderator. The public sector panelists included: Toni Preckwinkle, Cook County President; Andrea Zopp, Chicago Deputy Mayor; Danielle DuMerer, Acting Commissioner & CIO Department of Innovation & Technology for the City of Chicago; and Mary Ellen Weber, Principal of Stellar Strategies and former NASA astronaut.
Below are highlights from the evening.
When did you feel being a woman gave you an edge in innovation?
Toni Preckwinkle: In 1982 I decided to run for alderman of the 4th ward and lost. I ran again in 1987 and lost. I ran in 1991 and won by a narrow margin. I believed that I could do a better job than the incumbent and had a vision to help the neighborhood of the 4th ward. I had an agenda in place and knew what I was working towards. Not being immediately successful helped down the road.
Andrea Zopp: I started out as a prosecutor. I was underestimated, which was an advantage. I was able to push the envelope because they weren't expecting it. When you are unique or the only women in a field, that's an advantage.
Danielle DuMerer: My background is the opposite. I have a Masters in Library Science, a profession that is largely women. I was in a culture of women that embraced finding your voice and taking ideas to the next level. Then I transitioned to education publishing, another field dominated by women. Not until I moved to the tech sector did I experience an industry with fewer women. However, I have a great opportunity to promote diversity and inclusion.
Mary Ellen Weber: I spent my career completely ignoring that I was a woman astronaut and those that said "women had no business in space." I ignored it and found things that didn't separate men and women. Unlike other astronauts that talked about watching the Apollo landing and knowing that they wanted to be astronauts, I stumbled upon it. While studying engineering in college, I saw a poster for skydiving. Skydiving is the only sport that is not separated into women and men. Teams are co-ed. That mentality served me well.
What does it take to be an innovator?
Toni Preckwinkle: "Be sure to say what you want to say." Whenever I go to an event, I count the women and people of color in a room. Based on the number of women and people of color in a room I draw certain conclusions about the people putting on the program. Inclusion and diversity is important to have an innovative team. Our strength as a nation historically is because of diversity and immigration.
Andrea Zopp: You have to be about people and have a willingness to drive change. Innovation comes from change. However, people are not comfortable with change. Find people comfortable with risk and change. I am shocked that in 2017 when you ask people why, they feel "that's the way we've always done it" is an appropriate response. Push the "why?" True innovators ask "why" all the time.
Mary Ellen Weber: There are times when you ask people NOT to innovate. One prime example is high stakes situations, especially space missions that require rigorous testing and training to ensure mission success. A few years back, a new director of the space program sought to innovate on a motto of "faster, better, cheaper." As a result, we lost many missions due to human error because training was scaled back. You have to keep the same rigor and think it through. Don't miss things. When the stakes are high, dial it back.
A male audience member asked the panel what men needed to do to be inclusive?
Toni Preckwinkle: The emphasis is on collaboration, not the "lone ranger" syndrome. Women don't have so much of an inflated ego, which is an advantage. A disadvantage is that we are still more tolerant of risk taking in boys than girls. People still believe that men are more competent than women as evidenced by our recent election. As I told an employee, "I may be a black woman, but I'm your boss."
Danielle DuMerer: For the tech sector, don't assume that just because I am the only woman in the room that I am the assistant or secretary.
Andrea Zopp: If you are in a position to set pay, make it fair and equal among women and people of color.
The private sector panelists included: Katy Lynch, Co-Founder of Codeverse; Andrea Shreshta, Co-Founder of LuminAid that made a deal with Mark Cuban as an investor on Shark Tank; and Phyllis Lockett, CEO of LEAP Innovations.
What is necessary to be a successful entrepreneur?
Katy Lynch: Confidence comes from skill set and self-worth. Learning from mistakes. There's always challenges and second guessing.
Andrea Shreshta: We are too focused on the last "no." The next "yes" matters more than the last "no." Get to the next yes.
Phyllis Lockett: Be bold and confident. Dig deep in your belief system.
What is the best mentorship you received?
Phyllis Lockett: First, humility. Second, listen. Third, follow-up. The Midwest culture people want to be helpful. Ask and follow-up to show people that you listened and what you have done.
Any final advice you would offer innovators?
Katy Lynch: Entrepreneurship is not sexy. It is hard work, insane, and life changing. Hold out for the yes. Learn what you're not good at. Be knowledgeable of all aspects of the business, but you don't have to be the smartest person in the room. To attract investors, have you pitch deck perfected. Your pitch should detail mission, vision, values, management team, and business model. Create a list of investors you want to pitch. Start with the smallest firm with the goal being to get as much feedback as possible. By the time you reach the largest firm you know what they are looking for and have perfected your pitch and business model.